Thursday 28. July 2011.
Group Exhibition with 43 artists will open Saturday, 30. of July at 14:00, in Reykjavik's City Hall.
The Exhibition is quite diverse and colourfull :).
Refreshments at the opening, the Exhibition will be open until 14. of August.

Thursday 16. June 2011.
I have been participating in internet Exhibitions this Spring, the theme in May was "Flower Power".



Ahead is an group Exhibition in Reykjavik's City Hall, starting 30. of July, until 14. of August. We will probably be around 30 participaters.

Here are some paintings in progress:




Monday 30. May 2011.
Finally I have updated my website in all languages. Most of my paintings from 2010 are already on the site as well as the paintings painted in 2011. Still I have to photograph several paintings and put them on the site. I also put two new categories "Acryl" and "Recipes". Most of the small "recipes" are in private collection. I also am thinking about replace my guestbook to get rid of the ads that goes with the existing guestbook.



Student Exhibition at the Art school; Myndlistarskoli Kopavogs was held 7-9 of May, here is my contribution:


Tuesday 19. April 2011.
I continued taking classes at the Art school this Spring semester and here are some of the paintings under progress. Most of them are already at the 2011 site, but some of them I have to photograph and put on the site.






The last day we had a valuation of our work, here is what I accomplished this spring term:




Monday 14. March 2011.
The group Exhibition "The Icelander and the Ocean" opened the 11. of February and lasted until 6. of March at the Maritime Museum of Iceland (Sjominjasafn Islands). Here I am with my family in front of my contribution to the exhibition.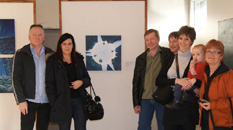 Thursday 16. December 2010.
I have been studying oilpainting at Art school; Myndlistarskoli Kopavogs, since September. The teacher is Sara Vilbergs. I love taking this class and she has been guiding me towards more color experimentation.
Here are three of the paintings under progress:





Monday 30. August 2010.
I am participating in a group Exhibition in Reykjavik's City Hall again, this time we are 4 exhibitionists, me; Elin Bjork Gudbrandsdottir, Gudny Svava Strandberg, Katrin Nielsdottir and Zordis. The Exhibition opened on the 28. of August and will last until the 12. of September.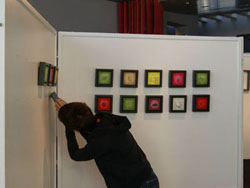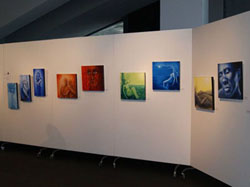 On the left photo I am putting up the small "Recipes" paintings which I have been painting this year. On the right you can see some of my larger paintings at the Exhibition.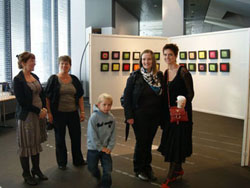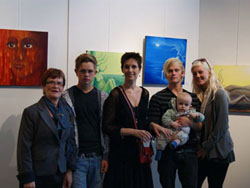 With my family in front of some of my paintings at the opening of the Exhibition.

I also had another Exhibition in July 10-24, at Café Sofá in Algorfa, Spain.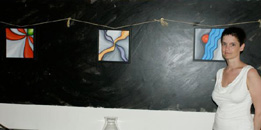 Sunday 28. March 2010.
I just put on the site paintings I have painted in 2009 after a long brake from updating the site, child raising has once again been taking all my time. I haven't been painting much for a while now, but I am just getting started again.
I have been experiencing with mixed media, both with acryl and oil.
Ahead is an Exhibition in late August at the City Hall of Reykjavik, same group as in 2008. I will put in the date later......

Wednesday 5. November 2008.
I have now put on the site a new category for paintings 2007-2008 and I have put some of the paintings I have been painting this period on the site. More paintings to come. I have also put an angel from 2007 on the "Angels" site.

Thursday 4. September 2008.
The Exhibition "Transparent" opened on the 30. of August in Reykjavik´s City Hall where I and 4 more exhibitionists show our paintings; Elin Bjork Gudbrandsdottir, Gudny Svava Strandberg, Katrin Nielsdottir, Katrin Snaeholm and Zordís.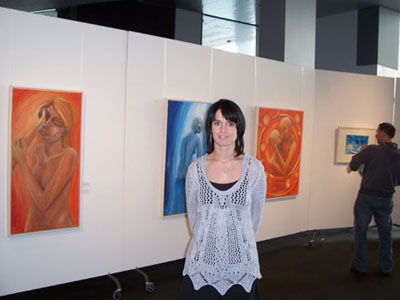 In the background you can see 3 of my paintings, but I also have 7 small paintings, all of them oil on canvas.
The Exhibition will last until 14. of September.

Saturday 16. August 2008.
One and a half year since any changing on the site.I have moved back to Iceland from Spain and just recently started painting again. From August 30 until September 14 I will participate in an Exhibition along with 4 other artists.

Saturday 14. April 2007.
As you can see I've been changing my site, so far only the Icelandic part is finished, but I will in time finish in all languages, though it might take some time since the size of the site. I have also been painting and working with pastel, and have all ready put 2 new pastel pictures on the site. One angel I will soon put here as well, but the 2007 paintings site will have to wait a little longer.

Saturday 27. January 2007.
Happy new Year!
I have finally put some more stuff on the site, 4 oil paintings from 2006 as well as 2 new Angels.
"Media Naranja" is still under progress and looks like this today:



Also, here are some pictures of an Angel in process:




g

Monday 25. December 2006.
Merry Christmas!

Sunday 3. December 2006.
December is here and some new Angels all ready on the site. I am also working on some bigger paintings and started paint the newest one yesterday (the first painting below) which I have chosen to call "Media naranja" (orange halves), but here in Spain it´s said that our soul mates, or "half oranges" can be many....




The second picture above has been in process for a while and is called "Cleansing".

Thursday 7. September 2006.
I have splitted my site once again and now my little angels have their own categori as well as I placed some new paintings on the site which I have finished this year.

I visited my home country, Iceland, in August and got better photos of some of the older paintings which are in private collection, and some photos of paintings that weren't on the site before.
I also took some of my paintings with me to Iceland, which now are exhibited in an office in Reykjavik.

Friday 14. July 2006.
I decided to put some more paintings here under progress, three of them are now finished, but I am still working on the second painting from the left which is 100x100 cm, as well as the last one, 50x50 cm and which I started painting tonight.

I have been thinking about splitting my site again and put another categori; Angels, -for my little angels. I will probably do that in the next few days if I find me some time.







Sunday 11. June 2006.
I have been very busy painting, here are some paintings under progress:








Sunday 28. May 2006.
Yet another painting in progress:




Sunday 21. May 2006.
I am now in one of my many "blue" phases, through out the time I have regulary been painting mostly blue colored paintings. Many of the paintings I have been working on the last months I have not published yet, but they are of course; blue! Here is one in progress:




Thursday 20. April 2006.
So much to do - to little time..... 5 new ones on the site and several under construction, some finished but not on the site.... a lot of things happening...
....and.....-please sign my guestbook!

Sunday 5. March 2006.
I have put few new paintings on my site and am as well working on several more, among them are those:





Wednesday 15. February 2006.
I have not put any new paintings on my site for a long time now, I´ve been busy painting pictures I want to show this summer. One new painting though as well as some changes of the site, I deceided to split the main page because there were so many paintings there allready, no place for new and fresh ones.
And at last, here is one painting I started to paint last week.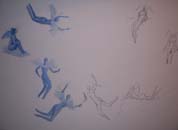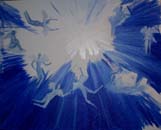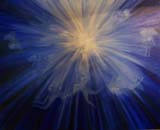 Saturday 14. January 2006.
Many new painting are allready on the site, so far the new year is promising. The newest was born today and wears the name "Field of happiness", 81 x 100 cm, and here are some pictures of the painting in process.





Sunday 1. January 2006.
New year and the first paintings of the year already on the site, thats Dance 1 and Dance 2, finished at last :) Happy New Year!

Monday 26. December 2005.
I have changed my site a little, of course it wasn´t enough for me to just have "Sketches", I also put in "Pastel", "Watercolour" and "Other", where I put pictures who doesn´t fit in the other categories. I also finished some paintings which I´ve already put on my site. Dance 1 and Dance 2 are still under progress, but this is how they look like today:





Thursday 8. December 2005.
I have put a new category with that original name: "Sketches", where I placed old pencil and pastel sketches I found. I will in the future put some sketches there wich don´t fit in the category "Paintings". I will probably also have another category called "Pastel" or something like that for my pastelpictures, but I will let the time decide.....
I also finished one more painting I´ve allready put on my site.

Sunday 4. December 2005.
At last my web page is completed in all four languages, except if I will find something I want to make better...knowing me I probably will.....

I have put some new paintings on my site this week, and amongst one made in 1994, "In the corner". My new collection is to be found on the bottom of the page "paintings", I hope you will enjoy them.

I am working on several paintings, some of them since last spring, Couple of days ago I started on two new ones. I have just painted the base coat and I call them "Dance 1 and Dance 2".


Oil on canvas, it will be exciting to see how they will turn out. It is amazing that the result of each painting often turn out to be totally different from what I started out with in the beginning. I am excited to see how my two new paintings will turn out to be as the ideas and colour change whilst working on them.....


Sunday 20. November 2005.
Here I have decided to write a little bit related to the subject I´m working on, my new paintings and those I have actually finished. Last but not least everything that pops up in my serene mind.



At this stage the greatest wish of mine is to finish the design of my Web page so I can really use all my strength in creating the thing I LOVE the most, painting my vision of art. As the learning of web design has taken a lot of time I now think the ICELANDIC part is almost finished.

I hope this one as well will be in the nearest future.

By publishing this page I´M TRULY living my dream and this dream I SHARE with you. HOPE you enjoy.

:)